Summer time is my favorite, especially in New York City. So many things to do and see, but so little time! Movies on the lawn at Bryant Park, drinks on a rooftop, Central Park rollerblading and so much more. And don't even get me started on the summer wardrobe, warmer weather = less clothing. Short shorts, sun dresses, crop tops and sandals. Unfortunately with sun dresses, if you are on the curvier side, you most likely experience the dreadful thigh chafing which ultimately leaves you with a tough decision each morning when you're deciding what to put on. Hmmm…. do I put my thighs through suffering today and wear a sun dress or not?
Meet Bandelettes – your thigh chafing life savers. This genius brand was designed to protect your thighs from rubbing together and starting it's own fire! Bandelettes are lace thigh bands that you wear under dresses and instead of your thighs rubbing together, your bands do all the work for you. You have to measure your thighs before ordering to make sure that you get the right fit, this way they don't fall down and stay on all day. I wore them for two full days and I can tell you that I had a great experience! Before Bandelettes (and well I still do sometimes), I put baby powder in my inner thighs to keep from chafing but eventually the baby powder wears off after sweating and you're still stuck with chafed thighs.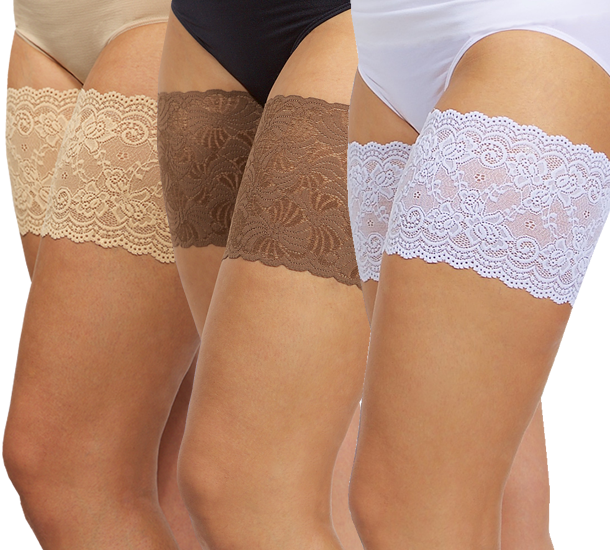 We did run a contest on Instagram for 3 lucky winners, which we are announcing here today!
1- @primaverita
2- @olliesmom
3- @city.whit
Congratulations! Please go on www.bandelettes.com and follow the instructions on how to measure your thighs for the best fit, choose your favorite color and e-mail info@stylethescene.com with this information and your name, address and phone number! Thank you so much for entering and happy summer with your new Bandelettes!
XoXo, Sherly